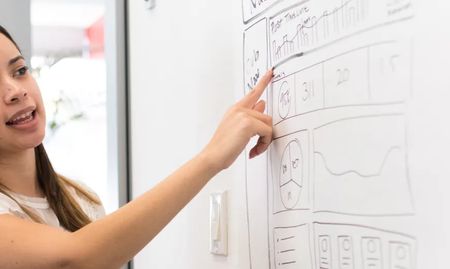 The Abletech way
Smarts in product development, production and distribution. Got an idea for a new app or other IT product? Starting one from scratch? Keen to put an existing plan into action?
If you'd like some expert advice and support, talk to us about an Abletech discovery workshop. Together, we'll transform your vision into practical reality!
Need detail?
Here's what we have to offer you
Join us for a discovery workshop and we'll soon establish a plan for action.
Together, we'll cover topics such as:
your product users and their goals, characteristics and roles

the journey on which you'd like to take them

your product's key features and benefits

what you need to do to implement your product, and any barriers to be overcome

the roadmap for delivering your product.
Using this understanding of your product's unique characteristics, we can help you with a design and implementation strategy. This will cover topics such as:
product validation: establishing a strategy to achieve market traction and product acceptance

funding (if you need it): sourcing external providers or finding and securing product partnerships

the user experience (UX): exploring ways to surprise and delight your clients, including through user testing and product refinement.
Once your product and business plan is in place, we can help with the build phase. This includes:
designing the structure of your product

testing prototypes and click-throughs

deciding on your product development options – new build or off the shelf, or a combination of both

getting estimates of costs and the likely timeline from start to finish.
Keen to know more?
Get in touch today for an obligation free chat!
Providing service with the x factor
If you've heard of the term 'UX', you might know that it's hugely important to the Abletech team. In fact, it's at the art of everything we do!
We define UX (or the 'user experience') as the emotional experience a person has when they work with us or use our products and services. We strive to offer UX excellence, whether that's through building strong business relationships with our clients or delivering outstanding solutions that respond to their (and their customers') needs, goals and challenges.
Need detail?
Here's what we have to offer you
We strive to deliver UX design excellence through:
Asking questions: We use stakeholder interviews, surveys and observational studies to set the foundation for every project. This helps us to avoid making assumptions about those who'll use our products, and put ourselves in our clients' (and their customers') shoes.

Identifying user characteristics: We use personas, common scenarios and user flows to identify users' problems, needs and goals.
Developing and presenting designs: We create simple, clear and understandable design proposals in response to user problems and goals. We present our designs as:

site information architecture (to show the website structure and content hierarchy)

wireframes (for low-fidelity designs)

interactive prototypes (an approximation of the final designs).

Validating our prototype's performance: We use an interactive prototype to identify common pain points for users of our products. Our approach includes: guiding the users through the prototype (through simple navigation and content-finding tasks), asking questions and observing behaviour.